IELTS Exam Preparation Tips & How to prepare for IELTS in 2022?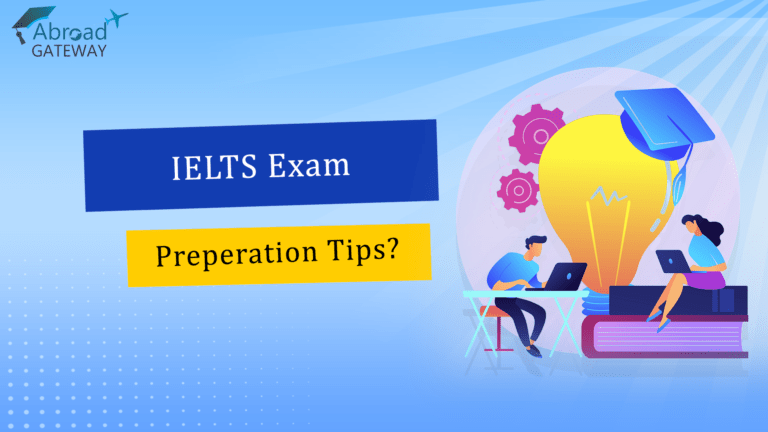 You may have seen people nearby you preparing for the IELTS exam. No wonder IELTS exam is in trend these days as many students wants to get student visa and study in a foreign English speaking countries. But what IELTS exam actually is?  Let us have a look at all the information about the IELTS exam.
What is IELTS exam?
IELTS exam measures one's proficiency in the skills of English Language which includes Listening, Reading, Writing and Speaking. These skills covers all the aspects of English language which needs to be tested. Here's a brief of all the information you need to know about the IELTS exam: –
IELTS: International English Language Testing System.
Types of IELTS exam: IELTS Academic and IELTS General Training
British Council, IDP IELTS Australia, and Cambridge Assessment English jointly own the IELTS.
 For getting student visa or to get permanent residency in developed nations.
How many times one can give this exam?
The IELTS exam is conducted 48 times a year, i.e., four times a month, and the IELTS test booking fee is around Rs. 15,500 as on April, 2022.
To determine an individual's proficiency in the English language for getting student visa or PR
Over 11,000 organizations globally recognize IELTS exam, which means that it is the most popular of all the exams.
The IELTS academic and general training score ranges from 1 Band to 9 Band.
The result comes out after 13 days
IELTS preparation time
There is a dilemma among students that how much time it will take to prepare for the IELTS exam. Well, the simple answer is that "it depends on you". If you have scored respectable marks in the English subject of 10th and 12th, then it may take only one month to get fully prepared for the IELTS exam and if a student has scored less than 50 percent in English, then he/she may take at least 2-3 months to get a good hold over the skills of English language. But Abroad Gateway can assist you with the IELTS exam preparation as with the help of experienced teachers at Abroad Gateway, you can have a good command over the skills of English language and can easily get ready for exam in a month.
Build your vocabulary
Vocabulary is basically the knowledge bank of your words. The more words you know, the stronger is your vocabulary.
But what is role of vocabulary in IELTS exam?
Vocabulary is an integral part of the English language as well as the IELTS exam. Vocabulary is required in every skill which includes listening, reading, writing and speaking.
Why vocabulary is important in every module of IELTS?
First, let us have a look at the impact made by lack of vocabulary on all modules: –
Listening: – In listening, if you are unaware of some words in the audio recording, you will be missing out a lot of details.

Reading: – In reading, if you will encounter synonyms of a keyword, you will be unable to identify and hence finding the answer will become a headache.

Writing: – In writing, the language gets repetitive sometimes due to lack of vocabulary and as a result the essay does not make a good impression.

Speaking: – In speaking, the visibility of vocabulary is at a good level in speaking as one has to convey his ideas and opinions to the test taker and hence a good vocabulary becomes a must requirement here.
The vocabulary can be improved by: –
Reading the books and newspapers

Listening to podcasts, interviews and TedX especially

Speaking with someone having good English.
Doing this will help one a lot in terms of being aware as well as in improvement of their vocabulary. The benefit of being aware of one's surroundings can feed new ideas to your mind while writing an essay in the writing module of the IELTS exam and also by this way overall personality can be shaped in a good way which will be visible to the examiner in the speaking module of IELTS exam.
Speak to someone fluent in English
Speaking to someone having an excellent level of English will give you an advantage in the journey of IELTS exam preparation. First of all, speaking in your native language will do no good for you in the IELTS exam preparation, so it is better to keep yourself habitual of speaking in English language with someone who has great fluency. This will not only improve your fluency, but will also lead to the improvement of vocabulary. Moreover, you will get to know your mistakes while speaking, which can further improve to get a good hold over the English language.
Take Mock test
Practicing is the most essential part of the IELTS exam preparation. By taking a mock test, you will get accustomed to the pattern of the exam, and hence breaking the fear to attempt the exam in real. Mock tests improves the speed and the accuracy both with the passing time.
Furthermore, the IELTS mock test will give an estimation of your Band score, which will be helpful to know your position in the IELTS exam preparation. Hence, practice will not only make you perfect but confident too.
Enroll for Abroad Gateway Online IELTS Program
Abroad Gateway provides the best IELTS exam preparation at your home and anywhere else online by the certified trainers from IDP and British Council having experience of over 10 years.
The Abroad Gateway provides: –
Live classes by the certified and experienced trainers.

Recorded sessions in case you miss the live session

Topic wise practice exercises of grammar

Vocab videos

Sectional test & Mock test

Tip of the day
 The Abroad Gateway Online IELTS Program can be beneficial for:
a.) Working professional
People who do not get time to attend the offline classes due to class of the work time, they will be absolutely having a great opportunity to attend the IELTS exam live class and their recorded session in case missed the live session, anytime they want. Moreover, this program will save a lot of time and will prove to be very constructive in the IELTS exam preparation.
b.) People living at distant places
The people living at the places far away who are unable to commute daily can continue their IELTS exam preparation with Abroad Gateway Online IELTS program. It will become very easy for them to get all the possible IELTS exam preparation and IELTS material at their home only.
Enroll For Abroad Gateway Offline IELTS Program
The Abroad Gateway offline program will make you exam ready in less than two months as one of the most experience and certified IDP and British council trainers will leave no stone unturned in your IELTS exam preparation.
Why Abroad Gateway Offline IELTS program?
The Abroad Gateway Offline IELTS program provides you with the privilege of: –
Vocabulary sessions

Individual attention as there are around 10 students in a batch

Pre- IELTS assessment

Latest IELTS Study Material

Daily Grammar sessions

Daily mock test

Speaking interview sessions on one to one basis

Add on class for repeaters
What is a good IELTS score?
The IELTS score comes under an eligibility criteria of getting admission in colleges and universities and thus becomes a deciding factor in the fate of deciding one's choice of college or university. The student who have just passed from the high school, needs to get minimum overall of 6 bands including listening, reading, writing and speaking.
However, the minimum eligible band score is different for both the college and university. Let us have a look at it.
For College:-
After 12th, the score must be 6 each and overall 6 Bands.
After graduation, the score must be 6 each and overall 6 Bands to become eligible for the admission in college
For University:-
After 12th or graduation, one must score overall 6.5 Bands to become eligible for the admission in university.
Best books for IELTS preparation
The market is full of IELTS books and materials which may contain many errors and must not be advised to the students. The Abroad Gateway emphasises that students should follow the Cambridge IELTS books and Abroad Gateway IELTS material.
There are a total 16 books of Cambridge IELTS as of April 2022. Every new edition of Cambridge IELTS book mostly release in the month of June. The 1-10 editions of Cambridge IELTS book contain both academic as well as general IELTS material. After that the editions from 11-16 have separate books for both IELTS academic and IELTS general training.
Lastly, the IELTS exam preparation must not be taken lightly as the IELTS band score will be the first deciding factor of getting a student visa to study in one of the developed nations. One must enroll into one of the Abroad Gateway programs to ensure the reasonable improvement and desired IELTS band. With the help of Abroad Gateway, the dream of studying in the foreign nations is not far away. Hence, it is advised to start the IELTS exam preparation as soon as possible.
9780031919                    9779773461      
Email:
raj@abroadgateway.com
operations@abroadgateway.com


SCO 45, First floor, Sector 42-C, Chandigarh, 160036