IELTS Reading- Choosing a title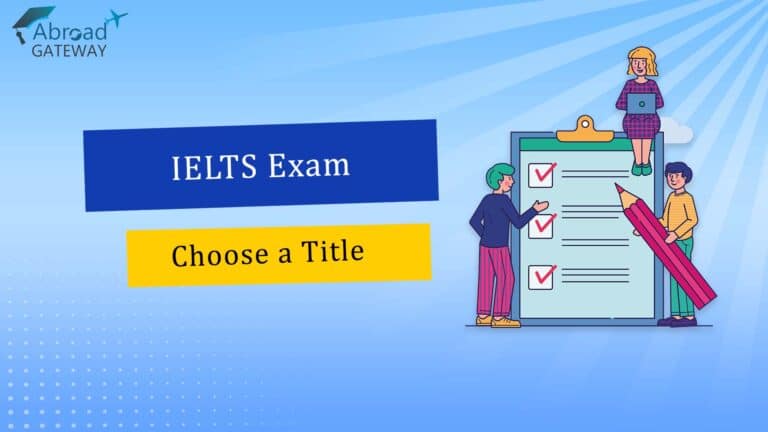 Choosing a title is considered the trickiest type of question in IELTS reading test. The Abroad Gateway categorizes this type of question in tough ones in the IELTS reading exam as it requires good observation to understand the main idea of the passage.
About Choosing the title
In this type of question, the test taker has to select the appropriate title for the whole passage from the given list of titles. Here, one has to understand the main aim of passage and try to identify the appropriate title for the passage.
Steps to solve:
Step: 1 Read titles
The first and foremost that one must do is to read the titles. Go through all the titles once before reading the passage. Doing this might give one an idea of the appropriate title while reading the passage.
Step: 2 Read the passage
The second step is to read the passage. The main purpose of reading the passage here is to get the main idea or theme of the passage. One must always read the introduction and conclusion of the passage thoroughly to ensure that a similar message is being conveyed in both the introduction and conclusion before choosing the title.
Step: 3 Choose the title
Now, it is time to choose the most suitable title that matches the passage appropriately. The title must be chosen only after reading the passage thoroughly as one can miss out on some details which can be helpful in recognising the title faster.
Tips:-
Get the main idea of the passage by thoroughly reading, as if not read with focus, then one can miss important information required to identify the title.

Try to find the subtle differences and similarities in the headings and filter them out.

Do not spend too much time on the question if unable to identify the appropriate title.

Discard previous knowledge about the text and focus on the information given in the text.

If stuck somewhere, move on further. The chances are that the test taker may find the answer till they complete reading the whole text.
So, in this way, you can match the headings with accuracy. Furthermore, you can modify your current strategy after applying these steps and improve your IELTS score better than anticipated.
9780031919                    9779773461      
Email:
raj@abroadgateway.com
operations@abroadgateway.com


SCO 45, First floor, Sector 42-C, Chandigarh, 160036